2020 HEEACT 15th anniversary- Register for International Webinar
Date:
Update Date:
Hit:985
Source:Higher Education Evaluation and Accreditation Council of Taiwan
Editor:ariannafy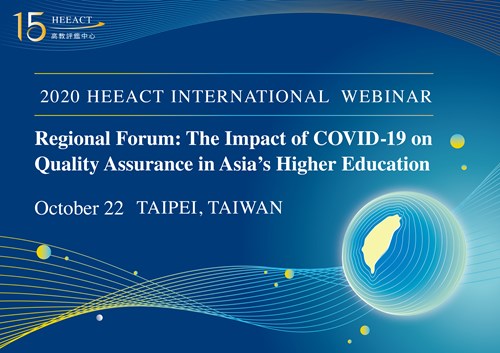 Dear Friends and QA partner agencies: 
Over the past years, HEEACT has successfully enhanced the quality of Taiwan higher education and this year is an important milestone because HEEACT will celebrate its 15th anniversary. In light of this, HEEACT holds the annual international conference from October 21st to October 23rd. Among this, the International Webinar (Regional Forum) will be on the 2nd day under the theme of "The Impact of COVID-19 on Quality Assurance in Asia's Higher Education". We invited speakers from BAN-PT, MQA and HEEACT to share "Crisis Management Policies of the QA Agency in Higher Education during the COVID-19":
Dr. T. Chan Basaruddin / Director of Executive Board, National Accreditation Agency for Higher Education (BAN-PT), Indonesia
Mr. Mohamad Dzafir Mustafa / Senior Director of Policy and Expertise Development, Malaysian Qualifications Agency (MQA), Malaysia
Dr. Angela Yung-Chi Hou / Executive Director, Higher Education Evaluation and Accreditation Council of Taiwan (HEEACT), Taiwan
Besides the regional forum, we are also delighted to have our staff to share the "HEEACT Research Achievement". We believe it will be a knowledgeable day to enjoy.
We would like to invite you to join us and celebrate together HEEACT's 15th Anniversary. The following link is now available for registration to the International Webinar: https://reurl.cc/Y6jVlo
We are looking forward to seeing you in October. If you have any inquiries, you can contact us through our email (2020conference@heeact.edu.tw).
*【Calls for Papers】Higher Education Evaluation and Development (HEED) now launches a call for paper for paper and invites journal manuscripts for Volume 15. Welcome to submit to https://mc.manuscriptcentral.com/heed. 
Thank you for your support!
Downloads
International Webinar Agenda 1022 jpg